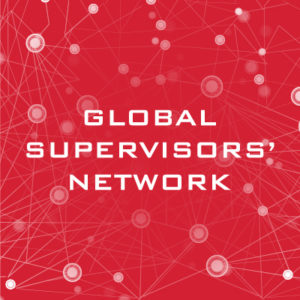 The Global Supervisors' Network (GSN) is unique.  When it started at the beginning of 2016 it was and remains the first, free, participative network for trained and experienced supervisors across the world who are working in coaching, mentoring and consultancy to provide each other with, and receive, Continuing Personal and Professional Development (CPPD) virtually.  It also supports research in the field of supervision, and has working groups for example in internal supervision, research, supervision of supervision and in supervision and the climate and ecological emergency.  While it collaborates with all the coaching, mentoring and supervision professional bodies, it is not affiliated to any one body.  The guiding principles are outlined at the bottom of this section.
It was set up by Eve Turner in late 2015/early 2016 and the criteria for joining are that members are qualified and experienced supervisors of coaches, mentors and/or consultants.  There are webinars at least monthly, where 300+ members from around the world provide each other with excellent learning opportunities on a range of diverse subjects broadly related to supervision and/or personal development.  Recordings and other materials, such as slides, are made available for members of the network for their personal use.  This is all done at no cost to members to join or attend the webinars with the sole aim of supporting best practice.
GNS members include supervisors working in countries such as the USA, Canada, Brazil, Mexico, Australia, New Zealand, South Africa, Kenya, China, Hong Kong, South Korea, Vietnam, Singapore, India, Oman, Qatar and Turkey, as well as throughout Europe such as Spain, Poland, Portugal, France, Finland, Hungary, Germany, Latvia, Austria, The Netherlands, Belgium, Ireland, Italy, Sweden, Switzerland and the UK.  The GSN has established a community that brings together some of the leading thinkers in the field.  To date there have been 200+ webinars.
We always adapt to context, and in March 2020, as the Covid-19 pandemic spread further around the world, causing lockdowns in multiple countries, the GSN started running special sessions on "Supervision and the Coronavirus" looking at supervising at a time of crisis.  Fortnightly sessions to share ideas and provide mutual support were arranged and held twice monthly up to cover global time zones, up to December 2020.  In part, these have continued in Kitchen Conversations facilitated by Hellen Hettinga and Anna Casas, and the climate sub-group.
Members may choose to be involved in working groups and research projects and they have participated in research on ethics, contracting, the role generational differences may play in supervision, dealing with bereavement in coaching and supervision and supervision of supervision (led by Julia Menaul).  The innovative research into supervision of supervision, through the workgroup,  began in Autumn 2017 and initial findings were reported in the AC's Global Perspectives magazine, pages 39-41, in late 2017 and at the EMCC research conference in 2018.  Jo Birch presented further personal findings through an auto-ethnographical study at the Oxford Brookes' 10th annual international supervision conference in May 2022 and the group collectivize published an article "Supervision of Supervision: Research Insights" in the July edition of the AC's Coaching Perspectives magazine.
Three more working groups were set up in 2020.  The first is on 'Supervision and Reflective Practice In The Face of a Climate and Ecological Emergency' and has a core team of Hellen Hettinga, Anna Casas, Andra Morosi, Rebecca Stevens, Colin Wilson and originally the late Dr Alison Whybrow.  There is a group looking at supervising internal coaches, co-led by Cheryl Cooper and Jenny Mitchell,  and a working group that will actively support research into supervision, co-led by Dr Colleen Harding and Dr Michel Moral and with sub-groups looking at different research topics such as the impact and benefits of supervision, team coaching, and ethical practice.  In 2023 a new working group is setting up around the important topic of mental health and supervision.
Members are also involved in running aspects of the GSN.  This includes a coordinating team with current members Veronica Wantenaar, Larissa Thurlow, Fiona Benton and myself, Eve, and previous members Anne Calleja,  Sam Farmer, and Benita Stafford-Smith, setting up sessions.  There was also a development group which included Jane Cox, Hellen Hettinga, Jenny Mitchell, Sophie Bruas, Jeanine Bailey, Michel Moral and Colleen Harding, and a group that started work on a bespoke GSN website with Alex van Oostveen, Amanda Horne, Emilia Piera, Angela Dunbar and Fiona Benton.  And there is an active team who host the webinars for the presenters: Angela Dunbar, Angela Jopling, Hellen Hettinga, Jeanine Bailey, Larissa Thurlow, Lise Lewis, Veronica Wantenaar and myself.
Publications and conference presentations have involved members such as Michel, Moral, Jo Birch, Carole Whitaker, Kristina Crabbe, Peter Hawkins, Damian Goldvarg and Eve Turner.  This includes a chapter written by Michel Moral and Eve Turner on supervision of supervision in a 2019 EMCC book on supervision edited by Jo Birch and Peter Welch.  Jo Birch has also written an article for Coaching Today (October 2020) based on her experience of supervision of supervision, through a GSN research group.
Members have also discussed the state of coaching supervision globally in two sessions in December 2018, chaired by Professor Peter Hawkins.  The results were written up by members Carol Whitaker and Kristina Crabbe: Whitaker, C. and Crabbe, K. (2019).  The global challenges of coaching supervision, in Coaching at Work Vol 14 (2), pp13-16.  They were also the subject of a conference presentation in May 2019 with Carol, Kristina and Peter Hawkins at the 8th international coaching supervision conference held at Oxford Brookes University.

The Global Supervisors' Network is proud to have partnered with EthicalCoach, the philanthropic arm of WBECS (now part of coaching.com), to support aspiring coaches in Africa with supervision.  Following coach training for the coaches by Professor David Clutterbuck, GSN members have given their time, voluntarily, to supervise the coaches since spring 2018, ending in spring 2021.  The aim of this phase of EthicalCoach was to support NGO leaders from Ethiopian non-government/civil society organizations committed to tackling humanitarian and environmental challenges, so aiming to transform the lives of children and families in need.  More details of the initiative can be found on the EthicalCoach website. GSN supervisors have also supported CoachActivism which helps frontline refugee workers and individual volunteers.
Please contact Eve Turner ([email protected]) or the Administrator to the GSN, Fiona Benton ([email protected]) for more details on the GSN.  Virtual sessions are held at both 1900 on Thursdays and 0800 on Fridays (UK time) to accommodate time zones, at least monthly.
Guiding Principles  
A community for experienced and qualified coaching/mentoring supervisors who have done 50+ hours delivering supervision
No particular affiliation to any one body or organization, but open to members of all bodies and other individuals provided they meet the joining requirements
A continued commitment to free monthly webinars and free membership for all
A learning community that supports development in the field so is actively involved in research, writing and pro bono work in coaching, mentoring and supervision
To be accessible from anywhere in the world, and offering webinars in different time zones each month to facilitate this
Respecting each other's copyright therefore being able to share materials with trust
Not advertising to each other, but promoting, for example, conferences in supervision.