25th February 2023
CCA Global Festival – March 2nd to March 31st
The amazing 5th CCA (Climate Coaching Alliance) Global Festival starts next Thursday 2nd March – have you registered for these free events yet? There are 55+ across March, starting with 9 brilliant keynotes 2nd-5th. See more here.
It is hard to pick out sessions. The programme is beautifully curated by our wonderful CCA volunteers and with huge thanks to the many excellent presenters who are giving up their time to put on events.
On Thursday 2nd there is a unique opportunity to hear from Clover Hogan, who at 23 has spoken on the COP26 mainstage, consulted within the boardrooms of Fortune 50 companies, helped students in 50+ countries take action, interviewed the 14th Dalai Lama, and had her TED talk viewed almost 2 million times. Or you can drop in on a conversation and take part on what we can learn from indigenous wisdom, also on the 2nd, with award-winning author Anita Sanchez, Lily Seto, and Michelle DeGroot.

For creativity using Indian dramaturgy, poetry, art and dream perhaps Srivi Kalyan on 4th or poet activist Drew Dellinger on 5th described by Alice Walker as "a deep and courageous poet." And we are grateful for the support of the 11 professional body signatories to the Joint Statement on Climate Change. And to Coaching at Work who started the first Climate Coaching Action day in 2020 and for their leadership in this area.
Please do join us from 2nd – 31st for a wonderful exploration of this year's theme: Tools for Transitions: Navigating the Paradoxes, Polarities and Paradigms in Climate Coaching. #CCA2023 #CCA24hr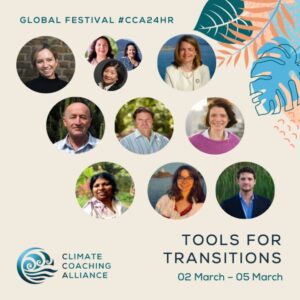 ---