21st July 2016
Eve Turner recognized for contributions to coaching & supervision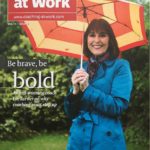 We are delighted to hear that Eve Turner has been recognized twice by Coaching at Work magazine in their 2016 awards.
Eve has been shortlisted with Peter Hawkins for Best Article of the Year: The article appeared in JAN/FEB 2016 edition and was entitled "CAN YOU SEE WHAT I SEE".  This follows her win for "Best Research Article" 2015 for "CHAIN REACTION" written with Sarah Gilbert and Michelle Lucas.
Eve has also been Highly Commended for Contributions to Coaching Supervision Award.
There were some wonderful comments that helped to support the recognition of inspirational input that Eve consistently brings to the coaching and supervision community. Some of the comments about her included:-
"While the other nominees have done a lot to advance the what of supervision – what it is, what good looks like, good models and approaches, Eve has galvanised the community to really develop it as a professional area of practice. She has lived the real world challenges and payoffs and has recognised the need to bring the supervision community together, to own its future. She has led the way in accreditation and in framing peer supervision so that it can have a place at the professional supervision table."

"I believe supervision is the most undervalued part of our work and Eve's focus on developing a community of learning across the supervision space so that we might develop and grow this capability I find inspirational."

"Eve is an outstanding practitioner who has continually invested in her personal and professional development as a coach and coach supervisor. As well as having a full practice and training and consultancy business she has contributed heavily to the coaching profession through her work with the Association For Coaching and other coaching bodies. Her recent research is adding value to the role and place of supervision in the profession"

"Her contribution to the industry is outstanding and she deserves to be recognized for her contributions."
---