30th October 2018
Announcing the publication of The Heart of Coaching Supervision today!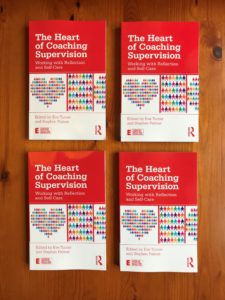 I am thrilled to announce that my first book The Heart of Coaching Supervision – Working with Reflection and Self-Care, co-edited with Professor Stephen Palmer, has been published today.
We look at how we, as supervisors, coaches, mentors or leaders can work with reflection and self-care to resource ourselves, our supervisees, and our clients and wider stakeholders. I am very grateful to the nearly 40 people who contributed with chapters and case studies and even more who allowed their stories to be told. Those contributing are based around the world from New Zealand to Canada, India to Greece, America to France. It has been a wonderfully collaborative and exhilarating venture.
Thank you so much to Peter Jackson, Tatiana Bachkirova, Peter Hawkins, Keri Phillips, Eunice Aquilina, Jackee Holder, Jane Adshead-Grant, Anne Hathaway, Linda Aspey, Lesley Matile, Sarah Gilbert, Katerina Kanelidou, Christina Baird, Sam Farmer, Laurie Hillis, Leona deVinne, Sarah Jaggers, Michel Moral, Edna Murdoch, Alanna O'Broin, Siobhain Riordan, Karen Pratt, Alex van Oostveen, Ram Ramanathan, James Marshall, and Qing Wang.  And of course our publishers Routledge and in particular Susannah Frearson, Heather Evans and Elliott Morsia for all their help and support.
The Heart of Coaching Supervision is now available to purchase at Routledge (please use discount code HCS227 for 20% off) or Amazon. I do hope you will enjoy reading it.
---