12th November 2023
Liberating Living Systems with Dr Josie McLean: 19th November
I am delighted to be part of this event which will launch the CCA's (Climate Coaching Alliance) Seasonal Heartbeat series on connection and also marks the fourth anniversary of the founding of the CCA.  Josie, who is one of the CCA co-founders with the late Dr Ali Whybrow and me, will be speaking on Liberating Living Systems.  It will run from 1930-2100 GMT.
Josie argues that it is the unconscious mechanistic assumptions embedded within western organisational cultures, that need to be identified, challenged, and cleared out of the way to liberate the natural ways of being and doing that are already present in every human. Her aim in the session is to contrast living systems with mechanistic systems using organisational life as an example.  Through this we will:
• expand our own awareness
• become more sensitive to the very different characteristics of these two worldviews
• open ourselves to different pathways for change as we attempt to address complex challenges such as climate and ecological crisis.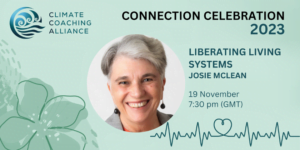 ---