2nd March 2018
Because You Can by Gill Smith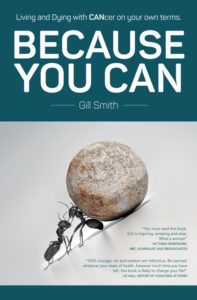 Because You Can is highly recommended.  It is a book that anyone could (and should) read, because it is about courage and using our skills to be proactive in our own lives (and in Gill's case treatment).  Most of all it is about living life to the full and remembering what is important.  Its relevance is obvious – all of us will have either experienced cancer or other serious illnesses first-hand, or had friends and family who have done so, or will have clients in that situation.
Gill Smith is well known in the coaching community having been Chair of the Association for Coaching (UK) for many years with expertise in positive psychology and neuropsychology.  In 2016 she was diagnosed with Stage 4 breast cancer that had already spread.
Over the period of the book we are privileged to share Gill's journey, warts and all, ups and downs but sensing a steadfastness and curiosity that is perhaps unsurprising given Gill's work as a coach.  As she says Gill is not a medical expert but she explains the current treatment regimes, the alternatives she has explored and how she has worked with diet, in the hope of not just prolonging life, but of having the best life possible.  Her message resonates: focus on what we can do "Because You Can", until at last we can't, and not waste time being anxious or miserable.
---